Underground Home Designs
Far from being the cave-like dwellings that some people envision, underground home designs are varied, and allow for individuality almost as much as their above-ground counterparts.
| | |
| --- | --- |
| Underground home design | |
Homes that are sheltered by the earth require almost no type of air conditioning, and they are easily heated.
Using the latest designs in underground homes, they can still be just as soundproof and fireproof as older designs of homes that use earth for shelter. Mowing your roof is certainly easier and cheaper than re-shingling it, as well.

Each underground home tends to have custom aspects of design, since the people who build them - or have them built - are very individualistic. The building process is not conventional, and various construction aspects are more difficult to accomplish than in conventional homes. Most people spend a good amount of time in the research and planning stages of their underground homes.
Location, Location, Allocation ...

Selecting the place to locate your home will affect the type of design that you can most easily use. Some spots may allow for large windows over the façade of your new home, while others may not be as easily adapted to that style.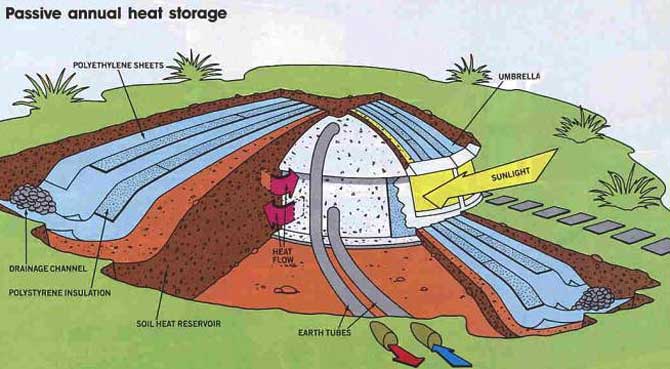 Underground Home Design

Building into a slope or hill is one popular way to incorporate a home into the earth, and it gives you many design options. The front of your home can be more fully exposed if you use a hill, and full of windows that let in wondrous light. Building on flat lands will lend itself better to courtyard styled designs, with that courtyard allowed to remain open to the sky, for extra light.
Before you finalize any design plans in a specific area, make sure that equipment can access your property to build your earth-sheltered home. This is also the time to determine the materials to be used for the walls, roof and floor, since this will affect the type of design you decide to use. It's assumed that you have checked local zoning ordinances to make sure that underground homes are acceptable.
You're Getting Warmer ...
Poured concrete that is reinforced with steel is a popular choice in underground homes. Be sure to waterproof the exterior walls before you cover them, to prevent leakage. It's better to do the concrete work in warmer months, so that accelerator is not needed to dry the walls. This could compromise the strength of your steel rebar.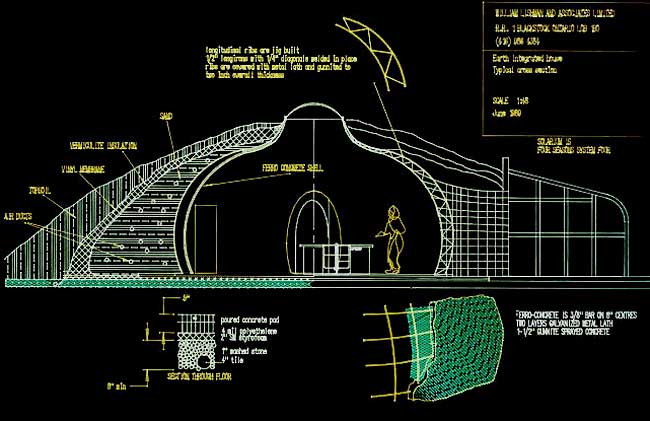 Underground Home Plans
No Experiments, Please ...

When you work on your underground design, be sure to plan for water lines, wiring, skylights and ventilation ducts. Make sure that your contractors are experienced in earth-sheltered homes, so that your design will not be "experimental" in nature. Your design will be best enhanced if you plant grass after you cover your roof with earth. Allow drainage plans for the roof, so that water will not collect or leak there.

Futuristic home designs are especially interesting when integrated with underground construction. A modern interior will carry that design theme indoors, as well. Circular floor plans work well for many earth-sheltered homes, and bringing as much light as you need into the area will keep it open and airy looking.
Conclusion ...
Each home design in underground construction tends to be a bit different from the rest, since people will want to build a house that appeals to their personal sense of style. There are almost no limits to the special aspects of design that you can use in underground homes.

Written by Kevin Knatloa
First Published on November 05, 2012
Updated November 22, 2013